#SmallWedding Venue
I recently had the pleasure of providing wedding evening entertainment for a small wedding party at Roundwood House,
County Laois.
As a small wedding venue Roundwood House can cater for up to
​60 guests comfortably.
Roundwood House - Perfect & Unchanged

Rounwdood house is one of those historic country houses that have survived the test of time unscathed and unchanged
Roundwood is a Georgian Country house dating from c.1750
In keeping with Classical architecture of the time, the house has has a beautiful symmetry but is full of intriguing curiosities and interesting characteristics,
One of the most amazing and notable things about Roundwood is that it has not been tampered with or visibly updated very much,
It has so many original period features that have never been altered.
This gives one a real historic country house experience and if you have any sense of history or times gone by, you will love this house and it's surroundings.
The house has a beautiful symmetry and is full of little intriguing curiosities.
The wedding couple I played for and all the guests were enthralled by the house and it's rustic charm.
---
Small Wedding Music For Dancing
The entrance hall plays host to wedding ceremonies,
and later on the evening dancing which is where I came in.
The entrance hall is the perfect space for a small wedding evening.
I set up my piano to the right and there was ample space for seating and dancing.
Younger guests were enjoying the antics from the beautiful balcony above.
---
Roundwood house is a family home and husband and wife team Paddy & Hannah welcome couples and guests to enjoy the house as if it was their own.
Paddy and Hannah themselves are warm and welcoming and take a lot of pride in their guests comforts.
Paddy is an award winning chef and
​freshly cooks the all wedding dinners to order.
I didn't have time to dine but the photographer"s main course looked very appetising indeed.
The young staff are pleasant, attentive and friendly.
---
Roundwood House Grounds
​

There are some great locations here for outdoor wedding ceremonies.
There are also magical wooded walks around the House.
These are like natural paths that wind among the trees and are simply breathtaking.
​
Old barns and a small walled garden provide great locations for photos and an after dinner stroll.
---
Small Wedding Entertainment
​

As a piano vocalist with my own piano, I specialise in music for small wedding evenings and day after wedding celebrations.
If you're having a small wedding but still want a wow factor, I will create an unforgettable atmosphere for your wedding evening.
The Sean De Burca piano man style lends itself to dancing and singalong and getting everyone involved.
It's Interactive, friendly and great fun.
I enjoy friendly banter with the guests, inviting requests and inviting guests to join me for a song or two.
It's always a great night with the perfect balance of dancing, singalong and guest spots,
Other wedding music services I offer music include -
​
Wedding Ceremony Music
Drinks Reception / Rat Pack Style
Wedding Dinner Music,
Residents Bar after the DJ
Day After Wedding Party
---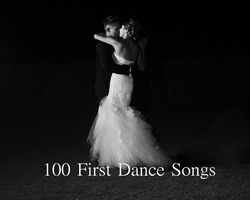 Choosing your First Dance
I've been a Wedding Ceremony Singer and a One man Band for wedding dancing for a while
I'd like to share with you some great ideas for your first dance
& also some ideas for your evening in general

A Song that Means Something to you both-
For your first dance as a married couple, forget everyone else, choose a song that means something to you,
It might be the song that was current when you first met or a song that made you both smile in the car on a journey together.




Get Everyone on The Floor
Your first dance is the opportune moment to gather everyone around you on the dance floor
The song that follows is a great chance to get everyone on the floor dancing,
Great Bands will know how to do this

Traditions and Etiquette
Sometimes It's nice to invite the father of the bride to dance with his daughter,
or the mother of the bride to dance with the groom
If you find that too much, just instruct your band to get everyone on the floor dancing,

First Dance Song - Can the Band Play It ?
Most wedding bands will have a good selection of songs to chose from for your first dance song.
Some bands will learn the song for you if it's not on their list.
However there are some songs that may not fit easily with your bands style.
If you really need a special song and your band can't play it
Play the CD or Mp3 through the bands pa,
You'll need a mini jack to RCA stereo cable,

Keeping the Dance floor Full
If you want to keep the dance floor full all night, the bride and groom really have to be there themselves as much as possible.
The band might be amazing, but to have a full dance floor you need to be dancing yourselves,
Remember you are the Soul of the party, your guests will go wherever you go.
​
Please help me improve this article by commenting below, any ideas are welcome😄


---
100 First Dance Songs download
Songs Of Today
A Day Like This Elbow
Perfect Ed Sheeran
How Would You Feel Ed Sheeran
Warm The Coronas
The One Kodaline
Into My Arms Nick Cave
Budapest George Ezra
San Diego Serenade Tom Waites
Better Tom Baxter
Chasing Cars Snow patrol
Better Together Joe Jackson
Fix You Cold Play
For Lovers Pete Doherty
By Your Side Sade
Tenerife sea Ed Sheeran
Thinking Out Loud Ed Sheeran
Kiss Me Ed Sheeran
Everything Michael Buble
Close Your Eyes Michael Buble
These Little Things One Direction
Sky Full Of Stars ColdPlay
Somewhere only we know Keane
To make You Feel my Love Adele
I will Wait For You Mumford & Sons
Just The Way You Are Billy Joel
Clocks ColdPlay
Flying Without Wings Westlife
Guiding Light Foy Vance
Greatest Day Take That
Heart beats Jose Gonzales
Sail Away with Me David Gray
This Years Love David Gray
I Won't Give Up Jason Mraz
Galileo Declan O Rourke
Hey Ho Lumineerrs
Truly, Madly, Deeply Savage Garden
Forever and Ever Amen Randy Travis



Michael Buble / Sinatra / Dean Martin
Amore Dean Martin
How Sweet it Is Michael Buble
Come Fly With me Frank Sinatra
The Way U Look Tonight Michael Bublé
Let There Be love Nat King Cole
Beyond the Sea Bobby Darin
Cheek to Cheek Frank Sinatra
Fly Me To The Moon Frank Sinatra
Feeling Good Michael Buble
It Had To Be You Harry Connick
I Get a kick out of you Frank Sinatra
Sway Dean Martin
Under my skin Frank Sinatra
My baby Just Cares For me Nina Simone
Feeling Good Michael Buble
Let there be Love Nat King Cole
At Last Etta James
Close Your Eyes Michael Buble
For Once In My Life Michael Buble
It's A Beautiful Day Michael Buble
Love & Marriage Frank Sinatra
What a Wonderful World Louis Armstrong
Everybody Loves Somebody Dean Martin


Billy Joel / Elton John
Always a Woman to Me Billy Joel
Just the Way You Are Billy Joel
Can U Feel The Love Tonight Elton John
She's Got a Way Billy Joel
Something About The Way Elton John
Your Song Elton John
Tiny Dancer Elton John


Irish Artists
All I Want is You U2
Crazy Love Van Morrison
Have I told You Lately Van Morrison
God's Plan Derek Ryan
The Voyage Christy Moore
Red Is The Rose Makem & Clancy
One U2
Someone like you Van Morrison
The Island Paul Brady
Caledonia Dolores Keane
Black Is the Colour Christy Moore
Raglan Road Christy Moore
Warm The Coronas
The One Kodaline


Amazing 80's & 90's
Everything I do Bryan Adams
Friday I'm in Love The Cure
Heaven Bryan Adams
She's the One Robbie Williams
Angels Robbie Williams
The Glory Of love Chicago
Time After Time Cyndi Lauper
True Colours Cyndi Lauper
The Power Of Love Frankie
Right There Bryan Adams
The Time Of My Life Dirty Dancing
Jersey Girl Bruce Springsteen
Love Is All Around Wet Wet Wet
Only You The Flying Pickets
Thank You For Loving Me Bon Jovi
Love Cats The Cure


Classics
Romeo & Juliette Dire Straits
Your Song Elton John
Can You Feel The Love , Elton John
You Do Something To Me Paul Weller
Hallelujah Leonard Cohen
Perfect Day Lou Reed
I Can't Help Falling in Love Elvis Presley
Over the rainbow Judy garland
What a wonderful world Louis Armstrong
Something The Beatles
Stand By Me Ben E King
In my Life The Beatles
Little Trip to Heaven Tom Waites
One Day Like This Elbow
Everything I Do Bryan Adams
Here Comes the sun The Beatles
Lean On Me Bill Withers
The Wonder Of You Elvis
You've got a Friend James Taylor



---
Romeo and Juliet - Sean De Burca - The Cliff at Lyons